Werkgroep 'eerste stap in activering'
Werkgroepleden
Therese Venema Lister en werkgroeptrekker
Marieke Brands Lister en werkgroeptrekker
Tussenvoorziening
Leger des Heils
Wij 3.0
De Wilg
Reinaerde
Doelstelling
Ieder mens is van waarde. En actief meedoen/zijn is hét middel om verandering teweeg te brengen in je leven. Daarom is het belangrijk dat alle ADSU organisaties zich inzetten om te voorkomen dat mensen op de bank terecht komen of daar blijven zitten.
Activering moet vanaf de aanmelding een vanzelfsprekend en prominent onderdeel in de begeleiding zijn.
Begeleiders zijn pro-actief en gaan samen op pad om te ontdekken welke activiteiten bij iemand zijn/haar kwaliteiten en behoeften aansluit.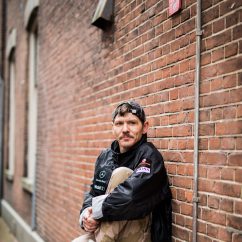 Wil je meer weten over de mogelijkheden of participeren in de werkgroep?
Stuur een mail naar Therese Venema en Marieke Brands via:
secretariaat@adsu.nl