Projectorganisatie
Coördinator ontwikkellijn 3
Thijmen Gijsbertsen
Doelstelling
Binnen ontwikkellijn 3 worden projectideeën op het gebied van activering naar de praktijk vertaald. Per project wordt er een plan en begroting opgesteld en wordt een project team samengesteld waar alle of diverse ADSU organisaties en eventuele partners buiten het samenwerkingsverband actief in participeren.
Het doel is om jaarlijks een aantal specifieke gedeelde projecten ten gunste van onze doelgroep(en) op te zetten waarin ADSU organisaties actief deelnemen.
Iedereen kan project ideeën inbrengen. Na een verkennend gesprek brengen we het project in kaart. Alvorens we van start gaan met het opstellen van een projectplan, toetsen we eerst bij de regiegroep of het passend is. Daarna wordt het voorgelegd aan de Taskforce voor een definitief besluit.
Momenteel zijn de volgende projecten actief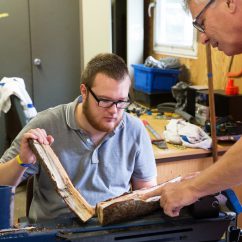 Project aanmelden?
Heb je een interessant idee voor een project op het gebied van activering waar diverse partners bij kunnen aansluiten?
Stuur een mail naar de coördinator van ontwikkellijn 3 Thijmen Gijsbertsen via: secretariaat@adsu.nl